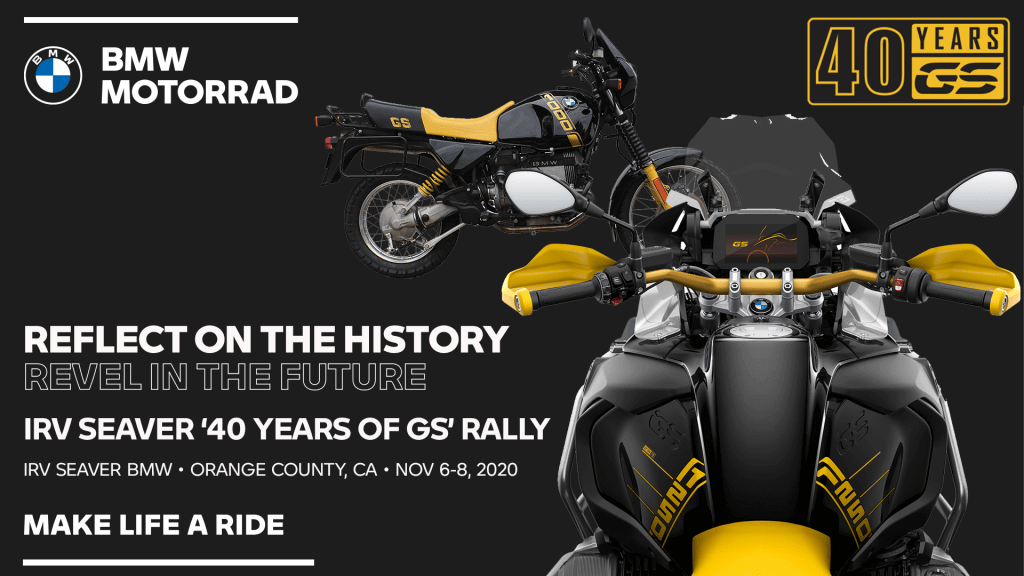 Irv Seaver 40 Years of GS Rally
Hosted By: Irv Seaver BMW
The Irv Seaver '40 years of GS' Rally is a grand rally event that takes place at your time and place. Let us explain…
The Irv Seaver '40 Years of GS' Rally happens over 8 hours of your choosing between 12:01 AM on Friday, November 6th, 2020 and 11:50 PM on Sunday, November 8th, 2020.
Each participant receives a list of sites, items, or circumstances to photograph during the 8-hour window. Participants, in turn, find, photograph, and submit the pictures to earn points.
Anyone who collects a minimum number of points during the Rally is automatically entered to win the new BMW G 310 GS.
Since we're practicing Social Distancing, you can start and end anywhere in the USA. A few locations will be specific to Southern California but nearly all the others are able to be found anywhere in the USA.
At the end of your 8 hours, you tally up your score based on your photo submissions and then submit it to the judges. From there, they compare your scores with your photo submissions. Final scores are then presented to all participants.
Some awards are presented to the highest points in certain categories such as under-30, female participants, and 2-up participants. Other awards go to the highest recorded mileage, most sites visited, etc.
Anyone can participate in the Irv Seaver GS 40 Rally from anywhere in the USA
About a week before the rally start, a list of places, items, and features to locate and photograph gets sent to all registered participants.  Each participant also receives a unique Rally Flag for use when photographing the locations.
Several bonus locations are included that you can achieve before the official start of the rally.
But what about the New BMW G 310 GS?
YES! Irv Seaver BMW in Orange County, CA is giving away a new motorcycle.
Eligible participants who earn a minimum number of points automatically enter to win the new BMW G 310 GS. Winners must be US Residents and in the US to take delivery of the BMW G 310 GS. The winner must take delivery at Irv Seaver BMW and is responsible for tax, license, and registration.
There are premium prizes for a number of categories. Some awards go to the highest mileage and the most verified locations. Other prizes for the most points by a male, most points by a female, and a whole lot more are up for grabs. The chances of winning a prize are quite good.
How Much is the Entry Fee?
Thanks to BMW Motorrad, your entry fee for the Irv Seaver '40 Years of GS' Rally is no-cost to you. Please don't abuse this. Only register if you plan to participate.
The best part is that all registrants are eligible to receive a really cool swag bag. The bag contains an event t-shirt, stickers, discounts, goodies, and more.
The swag bag is free, too if you come into Irv Seaver BMW to pick it up. If you want it shipped to you within the US, there is a $15 shipping and handling charge. Of course, if you don't want a SWAG Bag, that's fine too.
What if I don't own a GS (yet)?
The Irv Seaver GS 40 Rally is open to all riders regardless of what bike you ride. Simply because you ride, we welcome you. There are two sets of lists. One for paved streets only. The other list is for those who like to go off-pavement. You can even choose to do a half and half to embrace the true spirit of GS. GS in German stands for Gelände (terrain or off-pavement) and Stráße (Street).
Please read the Rules and Conditions along with the Frequently Asked Questions.
Have fun!
Share with someone who might want to attend this Event.