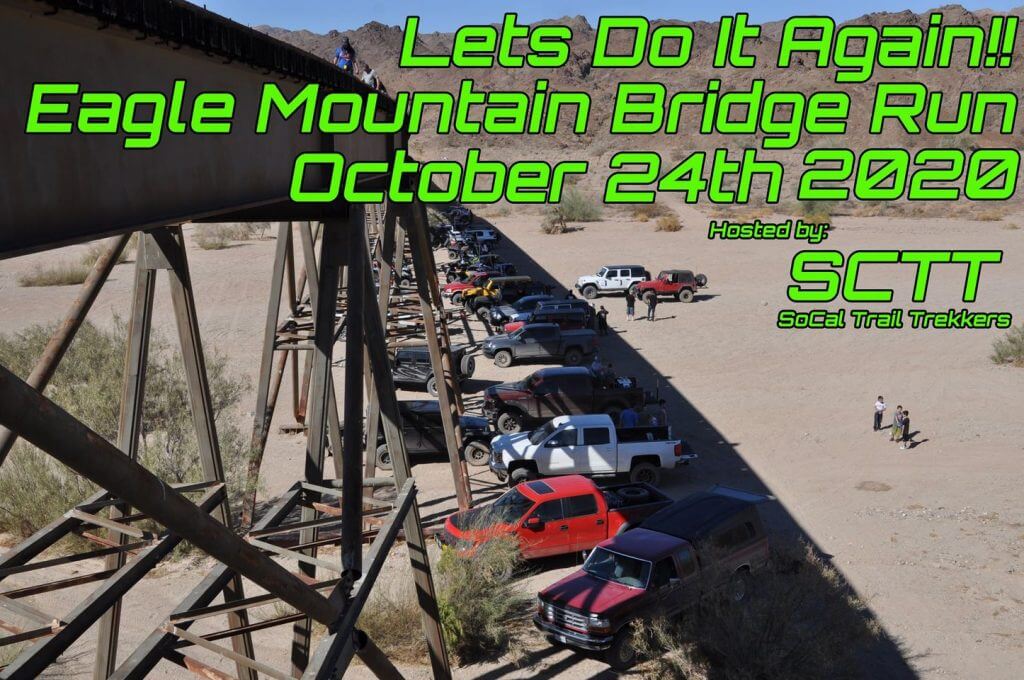 SoCal Trail Trekkers Eagle Mountain Railroad Bridge Run 2020
Hosted By: Socal Trail Trekkers
We will start the day at the TA Truck stop in Coachella. From there we will travel on Interstate 10 along the boundaries of Joshua Tree Park to the Summit Rd exit where we will air-down our tires to smooth out the ride and help us get through the deep sandy areas.
After airing down (not required) we will proceed to the Red Canyon Jeep trail, driving across the high ridges that overlook the canyons. We will then drop down into the wash as we make our way to our lunch stop under the 500 foot long, 50 foot tall railroad trestle – for what will probably be the last time.
We plan on having lunch at the bridge so if you like you can bring your grill if you wanna bbq or bring lunch and drinks of your own.
PLEASE PICK UP YOUR TRASH. YOU BRING IT IN, YOU TAKE IT OUT! LITTERING WILL NOT BE TOLERATED!
*There are NO BATHROOMS along this entire route. We will have to make due with bushes, rocks, and sticks
*We will be stopping to air down but AIRING DOWN IS NOT REQUIRED. There is a section of road that is very wash-boarded so airing down will make this section of road a bit smoother.
**STAY WITH THE GROUP** If you choose to leave the group you will be on your own
*It may get HOT – Check the weather and dress appropriately and be sure to bring plenty water, food and snacks*
*THIS MAY BE A LARGE GROUP that will move (very) slowly along the trail. If this is a problem for you, this run may not be for you
*We will NOT be finishing at the same place we started. IF YOU ARE TRAILERING IN YOUR RIG THIS MAY AFFECT YOUR PLAN.
REQUIREMENTS AND DETAILS:
*Any 4×4 Vehicle with recovery (tow) points front and rear
*A full tank of fuel (fuel up at the meetup spot please)
COMMS:
CB: Ch 16 (not required)
2 Way FRS: Ch 7
Ham radio: 462.712500 (FRS CH7)
MEETUP TIME/PLACE:
We will meet at the TA Truckstop gas station at 46155 Dillon Road, Coachella at 10:00AM and ROLL OUT shortly thereafter. Please plan to arrive early enough to fuel-up, make potty, get snacks, etc. We will NOT hold up the entire group if you are late.
Share with someone who might want to attend this Event.