For years, sleeping in a tent on the ground was one of the few options available to Adventurers. We would drive up to the campsite, unload our gear and begin the task of setting up. I for one did not look forward to this task when I could be doing something more fun.
Unfortunately some of the more complicated tents would take quite an amount of time to put together. I remember that some of the larger tents could take up to 30 minutes to set up. Who wants to spend this much time getting ready and have to do the same thing in the morning? Remember having to camp on a rocky area and having a rock lodged into your back all evening? Not to mention the frustration and breaking of parts that would render the tent useless. This has happened to all of us.
A concern that I have had is animals that com
e in to the campsite during the evening and worrying about them coming into the tent. This can be mountain lions, coyotes, snakes and a myriad of other creepy crawly creatures and with children the fear increases.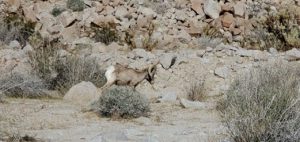 We will now discuss camping and the Rooftop Tent. With the affordability of Roof Top tents that are being imported from China and elsewhere we are now seeing more vehicles so equipped. On a recent off-road trip with another Adventurer to Anza Borrego I cannot ever remember seeing so many over landing vehicles with Rooftop Tents (RTT). Everywhere I looked I saw Jeeps, 4Runners, Land Rovers, Trucks and even a few Subarus as well as a Suzuki Samurai.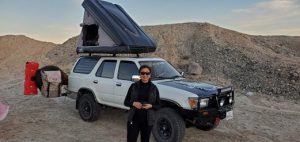 Imagine this. You and your wife have been offroading all day and are tired and hungry. You finally find a beautiful campsite where you want to stay and you pull in and find a relatively flat space. You exit your car, unstrap the straps on the RTT and in less than 1 minute it is set up. The bedding is already inside which gives you more room within your vehicle as well as more time savings. Not to mention you are out of the dirt and if you take your shoes off before getting in it actually stays pretty clean up there. Now you are ready to enjoy the the coming evening!
After you decide to retire for the evening you can go up to your tent where you open the side flaps and watch the stars and fall asleep peacefully. Being higher up allows you a better view of your surroundings to see who and what is going on around you. It keeps the animals away from you on the ground where they belong and with a very comfortable mattress you will sleep better than at home with no noise and fresh air.
You have now awoken the next morning from a wonderful sleep and are ready to start the day. After breakfast you begin breaking down camp and put away your RTT. After lots of practice we can now put it away in about 1 minute and can now go off to enjoy the day and maybe see some Desert Bighorn Sheep or find another secluded trail that you wanted to check out.
We have made the switch to Roof Top Tents when we have that option. This doesn't mean that we will no longer be in tents and regularly do it on Motorcycles or different type of camping until they make one for them. Different scenarios require Different Equipment. We love the security, ease of setup and speed as well as the affordability. It makes my wife much happier and she is more reluctant to go camping. HAPPY WIFE HAPPY LIFE!!
In the coming months Life Of An Adventurer will be selling and renting out Roof Top Tents out of our Location in Los Angeles and within 6 months will be renting out Overlanding Trailers. If you have any questions about these, please let us know.
I am going to try to make a go of this Adventure Stuff. Please like and share me. THIS IS THE ONLY WAY THAT WE BUILD SUBSCRIBERS! We will have the Website up shortly. LifeOfAnAdventurer.com as well as Instagram Life.Of.An.Adventurer and our Facebook page.