I have been carrying a Glock knife with me on my Adventures for in excess of twenty years. It has traveled from Alaska all the way down to South America. It has been abused, beaten and neglected. It has seen saltwater, blood, dirt and been used to cut things, chop things and pry things and it has never let me down. It does what other knifes costing much more do and keeps on coming back for more.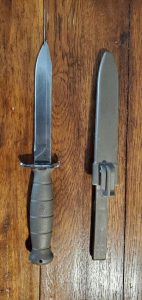 Glock knives came about as a corroboration with the Austrian Special Forces (Jagdmonnando). They wanted a durable knife that met their needs and could also be used for throwing.
Glock knives are made of SAE 1095 spring steel, have a hardness of 55 HRC and are phosphate treated blade. This makes for a super hi strength knife with a flexible blade and great corrosion resistance. They are available as a 6 inch blade and come in a saw teeth or non saw teeth design that has an overall length of 11 inches
The handle and sheath are made of the same proprietary Glock Polymer and comes in olive drab, battlefield green, desert sand, flat dark earth, gray and black. It can also be used as a bayonet for the Steyr Aug and can also be used as a bottle opener to open your IPA.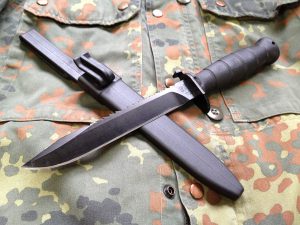 The polymer sheath features a retention sheath that secures the knife against loss and also a belt clip that allows use up to a 2.4 inch wide belt. It also has a drainage hole in the bottom.
It is currently available on Amazon for approximately $35.00 and if you are a prime member, you will get shipping for free. If you are looking for a superb quality knife that won't break the bank this it is. I have owned much more expensive knives but yet I keep going back to the Glock brand of knives because I know they work and I will not curl up into a fetal position and cry if I lose it.